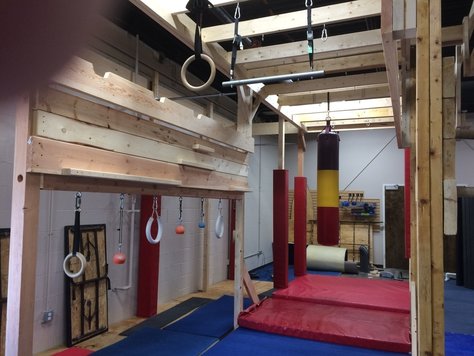 New For 2017
An American Ninja Warrior Inspired Gym!!!!!!!!!!!!!
Regular Prices:
$20 for drop in $150 for punch pass (10 punches)
Normal Hours:
5-12 years old Monday & Saturday: 10-11AM
13 years old+ Monday & (Possible Thursday): 5:30-7PM
Open Gym: Saturday: 11:15 am-12:45-PM Be a part of a new tradition!
---
Gymkhana's Cheer
Our mission is to provide superior quality training in all areas of cheerleading, while implementing strong principles of responsibility, respect, fairness, and motivation. It is our goal to build confidence and inspire athletes to reach their fullest potential in order to create a season full of positive memories and success. We will empower our athletes by providing exceptional role models through our high quality staff and family-friendly environment.
Gymkhana's Cheer practices in our 25,400 sq. ft. facility with 2½ full-size spring floors, tumble strips with in-ground foam and resi-pits, tumble traks and trampolines, plus additional equipment to aid in cheer, dance, and tumble progressions.
Check out our ​​
Cheer Schedule
for more details.
​